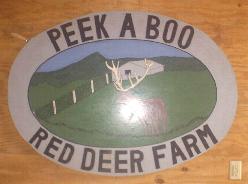 PeekaBoo Red Deer Farm
Owner must retire
124 Acres of beautiful Maine
At least half is fenced
Approx 170 deer Hinds, Weiners, Stags, Yearlings
Home, barn and all the equipment goes with it
Just to name a few
1997 Belarus Tractor
Dump truck
Hay Truck
Hay Rake
990 Mower
Bale Wrapper
Hay Baler wet or dry
King Hitter Pole Pounder
1985 Dodge Pickup with plow
1985 Dodge Pickup with plow
1985 Dodge Pickup with plow
Generator
Rolls of fencing
Assorted tools and fencing equipment
Barn with handling facilities
6.6 Ton Grain Silo
3 bedroom 2 bath Mobile Home
2 Drilled Wells
Over 200 round bails of hay some haylage and some dry hay
and much more....
Owner is located near by to help with the showing of how the farm is run. This is beautiful country living with a brook running through it. Wake up every morning to wildlife.
Great business venture
About 15 miles from the Canadian Border. Located about 5 miles to the Grand Lakes. Fabulous view of the countryside.
Please email me with any questions
PeekaBoo_Red_Deer_Farm@hotmail.com
Serious buyers please call Philip at 207-448-2622 or 207-694-0286 or Call Jackie at 207-448-7363 at work207-448-2334
Thanks !